Behind the lens: Ukrainian photographers on their most important war photos
Delyurman Diana
Комунікаційна менеджерка Премії імені Георгія Ґонґадзе
Ukrainian photographers document armed conflict in their own country, their hometowns and on the streets where they grew up. Undoubtedly, each shot is personal and memorable for them. We asked several Ukrainian photographers to select one picture that means the most to them. In each one, you will find both their deepest feelings as well as their experience of this war.
Katya Moskalyuk about a choreographer from Borodyanka
Before the war, photojournalist Katya Moskalyuk published works under the hashtag 'vulnerability'. She wrote texts and created photo stories about families raising children with disabilities, about supportive housing for vulnerable people, about the problem of sex education of children with mental disability, and those with visual impairments.
Today, Kateryna documents life during Russia's full-scale war against Ukraine, photographing internally displaced people, volunteers, witnesses of the crimes of the Russian occupiers, and funeral processions in her native Lviv. In addition, the journalist recorded the stories of people in the de-occupied Kyiv region. Kateryna told us one of them.
"Borodyanka is a city in the Kyiv region that has suffered greatly from the Russian occupation. There were no windows left in the city's Palace of Culture, and the walls cracked from the shockwave. After the work of sappers and communal workers, the employees come to work — they tidy up their offices, sort out the surviving things.
In one of the rooms on the third floor, behind a door without glass, a woman was pulling out props for a makeshift puppet theater from under the shattered furniture. "Look, the toys remained intact," says Nelia Lekhno with a smile. Before the war, she worked as a choreographer and organized holidays for children. A bombed-out high-rise building can be seen from the window of her office, and posters of the performances remain on the walls. She and her family managed to evacuate from Borodyanka. "When we were coming back and saw all these ruins from the car window, we just couldn't hold back our tears," Ms. Nelia recalls.
Kateryna hopes that she will soon work on stories about how Ukrainians are rebuilding their lives after the victory.
Serhiy Hudak on how he saw off a friend to the frontline
Photojournalist Serhiy Hudak documents the most important events and everyday life in Transcarpathia. The return of the defenders home, mountain races, the celebration of national holidays – you can see all of that in his sincere shots. Since the beginning of Russia's full-scale invasion of Ukraine on February 24, Serhiy has been covering the changes that have taken place in his native region. Among his stories are the arrival of IDPs at the Uzhhorod railway station, weaving camouflage nets and setting up shelters in schools. The photographer told us about saying goodbye to a friend who went to the frontline.
"It was a difficult day. My friend was going to the front, and I came with his family to see him off. On the platform I saw many familiar bright faces. These were people who until February 24 were musicians, journalists, artists, publishers. Now they are warriors who are defending our country from evil."
Serhiy saw his friends — Olga and Max — hugging goodbye. 'It seemed as if time had stopped for them, and at that moment there were only two of them. And anxiety.'
Oleksandr Ratushnyak about an old man from Irpin
Since the beginning of Russia's full-scale invasion, freelancer Oleksandr Ratushnyak has been documenting the war in its hotspots. In the most acute moments he was with a camera in Kyiv region, later — in Chernihiv region, in the south of Ukraine, in Donetsk region and Luhansk region. Oleksandr describes one of the events that have had the most impact on him.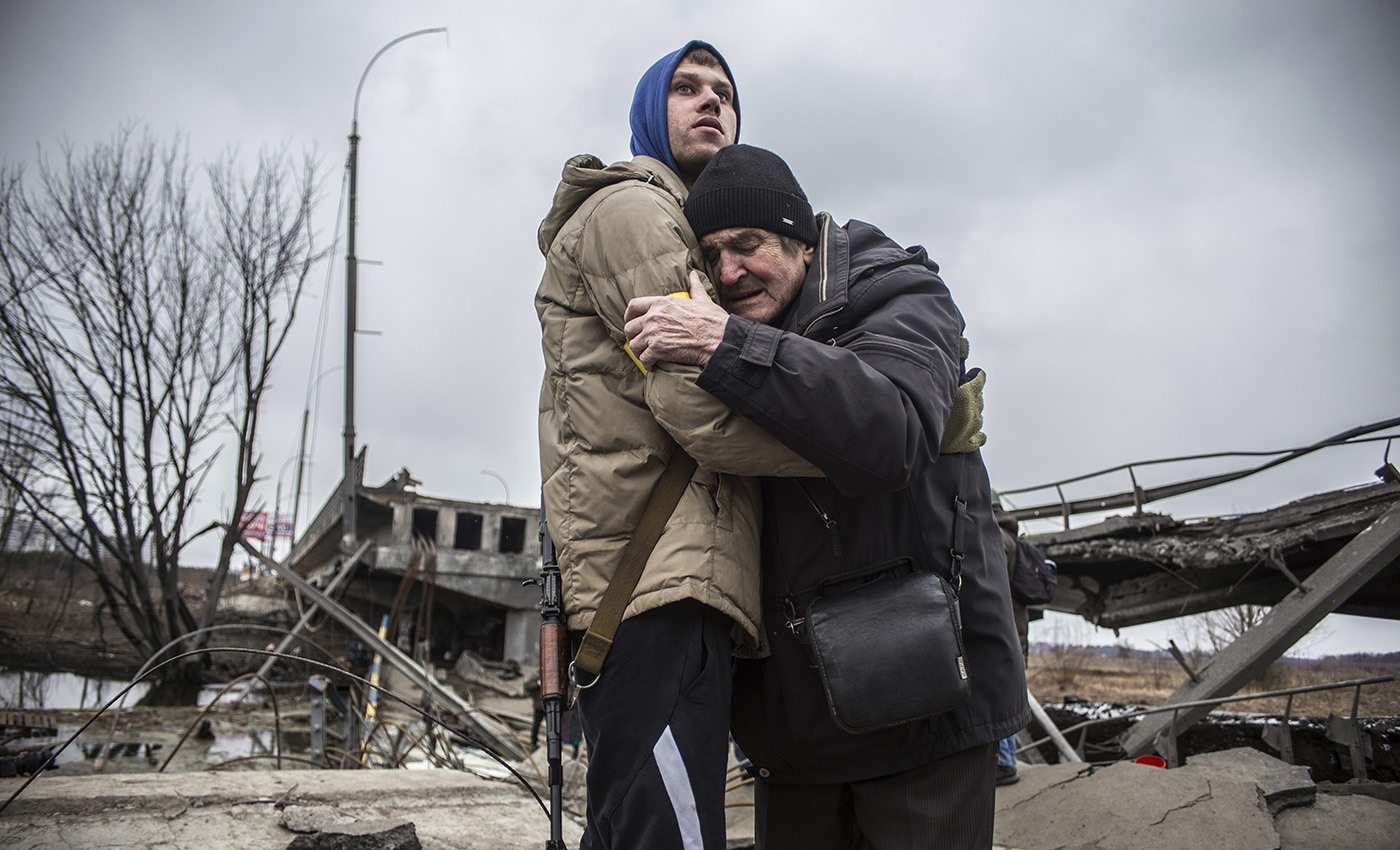 "Hundreds of cars, many with signs reading 'Children', were evacuated from Irpin. There was a feeling of going in the wrong direction. Everyone was leaving the very place where you are going".
On the destroyed bridge, the photographer saw a Territorial Defense fighter supporting an older man.
"At first I thought the old man was injured", the photographer says, "In fact, he had a heart attack. They called a doctor. The fighter hugged and tried to comfort the old man." Meanwhile, could be heard from time to time.
Yana Sidash about an old woman from Kharkiv region and her home which was burned down by the Russians
Yana Sidash is a photojournalist and documentary photographer from Lviv. Since the 24th of February, she has been photographing the country during the war. In her work, Yana focuses on people and how their lives have been completely changed by the reality of war.
"I got to the village of Shestakove only thanks to volunteers. No one was allowed there because of the active fighting and shelling, to which the locals had already gotten quite accustomed. There were only a few families left in the village. I remember an older man running up to us saying, "Oh, look — people! How did you get here?" It turned out that only one humanitarian aid team was coming to this village. Others were not allowed for security reasons.
There we met Lida. She lives in a house destroyed by Russian shelling. She does not want to leave, she says —this is her home. We are standing and talking in her ruined yard. She tells us about how her dog starts barking before something 'arrives' from the sky. She tells us about gathering grass for her chickens, since she was able to save them. One day, her son came and taped her windows. That's how she lives — alone, in a house without light, gas and windows, among the wreckage of neighboring houses. In the end, she offered us eggs because, you see, she has nothing more to give us. I said goodbye to her with tears in my eyes."
The route on which the volunteers were leaving Kharkiv was shelled even harder. Now Shestakove is cut off from all communication. "I do not know how Lida is doing now. I hope she is fine," Yana says.
Andriy Dubchak about a Territorial Defense fighter who protected civilians from shelling
Andriy Dubchak, the founder of the independent media Donbas Frontliner, has been documenting the fighting in Ukraine for more than a year. However, he admits that in the first days of the full-scale war, it was terribly scary. But he had to work, so he went to Irpin in the days when the city was heavily shelled by the Russians.
"It was a difficult and bloody day for my country. In this shot, Oleksandr, a fighter from the Irpin Territorial Defense Forces, shielded The New York Times journalist Lindsey Addario from Russian shelling. At the time, the Russians fired at the 'green corridor' in the city," Dubchak said.
Within minutes, the fighter was wounded by mine fragments, and the mine explosion killed a mother and two children along with a civilian man. Andriy Dubchak managed to document the moment of the explosion and tell the world about the crimes of Russian troops.
After being wounded, Oleksandr recovered and continues to defend Ukraine in the Armed Forces.
Slava Ratynskyi about a chance encounter with an old acquaintance at the military registration and enlistment office
Reporter and documentary filmmaker Slava Ratynskyi works for the Ukrainian agency UNIAN and the British Reuters. Since the start of Russia's full-scale war against Ukraine, he has documented how Ukrainians prepared to defend their country on training grounds with Molotov cocktails or machine guns. The most memorable shot for Slava is also about such a brave man.
"I took this photo on February 24, the first day of a full-scale war, when the whole country woke up to Russian missile bombings. In the photo - one of the Kyiv schools, where the military registration and enlistment office was temporarily deployed. Men gathered in this room to join the Armed Forces of Ukraine. Among them is Roma Solonynka — the photographer, defender, Hero. In the photo, he is sitting under a map of Ukraine and eating a pie."
Slava photographed an old acquaintance by accident. He did not notice him and went on his way, but Roman caught up with Slava and said hello. An air raid broke out in an instant, and all the men went down to the bomb shelter. There, Slava and Roman spoke for an hour.
"He said that he had been preparing for this day for a long time and knew that it would eventually come. He came to the military enlistment office in the morning because he had a packed backpack with the
necessities and a minimum supply of food."
According to Slava, he and Roman were not close friends. From time to time their paths would cross, and they agreed to have a cup of coffee. "But that day I was so happy to meet him as if he were a family," the reporter said.
It turned out that this was the last time he saw Roman. "Roma went for training in Bila Tserkva, and then to the Kharkiv region as part of the 72nd Separate Mechanized Brigade named after the Black Zaporozhian Cossacks. He died in early May as a result of artillery shelling near the village of Peremoha. The farewell ceremony for Roma took place in St. Michael's Cathedral in Zhytomyr on May 9. He is buried in the Zhytomyr Military Cemetery."
Slava remembers what Roman Solonynka was like: "He was a very active and talented man, had many photo projects, held photo exhibitions, enjoyed design and even dancing."
Translated by Irene Shtapura
Edited by Zoryana Melesh
june 21, 2022
1219
Support our work
We need your help to create projects and materials aimed to defend freedom of speech, popularize Ukrainian culture and values of independent journalism.
Your donation means support for discussions, awards, festivals, authors' trips to regions and PEN book publications.
Support PEN